Roll over image to zoom in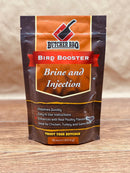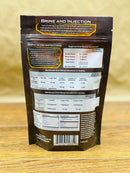 Description
Butcher BBQ Bird Booster Brine is the result of years of winning in BBQ competitions. Formulated with science-backed ingredients, it adds moisture, flavor, and tenderness to each and every bite. This brine requires only room temperature water to dissolve, making preparation easy. Additionally, the savory flavors created are unmatched. Perfect for grilling and smoking, it can also be used as an injection or added with any Bird Booster product. Use on any poultry or wild game birds for a delicious meal. Follow the mixing instructions for best results!
For delicious, juicy turkey, trust Butcher BBQ Bird Booster Brine. This dry brine can be mixed with water to create a wet brine and ensure that your turkey is moist and tender. Cook with confidence and make flavorful meals your family will love.
Payment & Security
Your payment information is processed securely. We do not store credit card details nor have access to your credit card information.