Roll over image to zoom in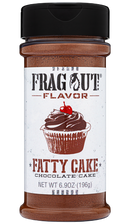 Description
This blend of spices is rich in chocolaty flavors. There are a lot of great ways to enjoy this flavor.
YOU MAY ASK YOURSELF WHAT THE HELL DO YOU USE THIS ON?!
Pancakes/waffles
French toast
Popcorn
Marshmallows
Yogurt
Ice cream
Chocolate frosting
Peanut butter
Fruit
Chocolate cake covered in chocolate frosting with chocolate covered chocolate chips
Payment & Security
Your payment information is processed securely. We do not store credit card details nor have access to your credit card information.