Roll over image to zoom in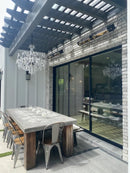 Description
Enjoy outdoor temperatures all year long with the Radtec T6000/18R - 75" Weatherproof Electric Patio Heater. Our IP67 Waterproof triple element heater is designed for durability in any weather and features a remote control for easy operation. With a sleek, all black finish and wall or ceiling mount options, this heater is perfect for high ceiling applications and hard to heat areas. Reliability is backed with a 2 Year Manufacturer Warranty. Get the heat you need and maximize your living space.
These products typically ship within 3-4 business days from the time of purchase.
T6000/18R Golden Tube Infrared Radiant Heater (75 x 6 x 5 inches)
CE Certified Product
2 Year Manufacturer Warranty
Anodized Aluminum Extrusion
Remote included - 4 Variable Heat Settings
Mounting Kit included
All-Black Color
Electrical:
Wattage - 6000W
Voltage - 220-240V
Amperage - 27.27 Amps
Plug Type - Hardwired Connection Required
Power Cord Length - 48 inches
IP67 Dust & Water Resistance Rating
Specifications:
Dimensions - 75 x 6 x 5 inches
Weight - 14.5lbs
Element - Golden Tube
Heat Coverage Area ~ 300 Sq.Ft.
Mounting Height - 7-16ft
Payment & Security
Your payment information is processed securely. We do not store credit card details nor have access to your credit card information.